That's right, it's nearly Spring! Imbolc means 'In the belly' or 'Ewes milk' and it falls halfway between Winter Solstice, when the sun is at it's lowest point and there is the greatest lack of light and Spring Equinox, when the light and dark are once again in balance.
Originally the festival was dedicated to the goddess alternately known as Brighid, who is said to breathe life into the dead of winter using her white wand. Hence why we start to see glimmerings of the new life to come in the form of tiny buds on trees and daffodils starting to peek out of the earth. It's a time of year that's full of potential, so now is a great time to clear out the old and welcome the new (spring clean etc...)
Good soaps for Imbolc
To reflect the potential of this time of year, the seed is quite symbolic. So I thought I would show you a couple of my products which contain seeds - poppy seeds in fact! Poppy seeds are great, as they provide gentle yet affective exfoliation and they also look aesthetically pleasing.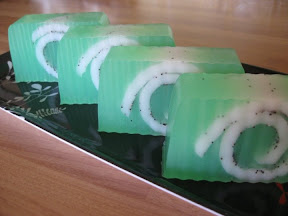 Summer Kiwi Fruit Soap with added Apricot Kernel Oil.

This soap is also in my
sale
happening right now!
Black Raspberry and Vanilla Foaming Scrub
I hope you all have a wonderful day, whatever you're up to!